Commercial HVAC UV Lights Air Purifier
Commercial HVAC AIR CLEANER
(and homes over 4,000 Square Feet)
Small furnace induct UV air purifier

This commercial grade UV air purification product features 6 UV lights and easily mounts in 15 minutes on existing cold air return air duct (or HVAC furnace plenum at or after the coils/blower) and safely sanitizes air as it recirculated through the HVAC ventilation system. It irradiates the air with high output UV lights, safely and without harm to you, and destroys living airborne pathogens such as viruses, mold spores, bacteria and more by using extremely powerful ultraviolet lights with adequate UV for commercial HVAC appliations. Clean healthy air for your business (or business customers), with near overnight results. CaluTech's Spectrum UV Lights are extremely powerful and work fast. Popular with hospitals for removal of Pseudomonas aeruginosa in HVAC coils. Choose the Spectrum 6 lamp UV air sanitizer when commercial indoor air quality results really matter.
DETAILS OF THIS PRODUCT & INSTALLATION:
UV air purifier is 100% electronic with 3 micro-controllers monitoring UV lights output.

Lifetime Warranty on power supply system. (Made in U.S.A.)

Air purifiers check incoming power and adjust to voltage from 110 to 280V - 50 or 60Hz.

Use the Spectrum HVAC UV lights air purifiesr for maximum results in minimum time.

EOL circuity safely removes power from UV lamps as they near end of life.

Low cost purifier lamps, averaging $22. Compare to competitors at $80+ each!

Housing is aluminum, keeping the system weight light for easy handling.

UV lamps (all 6) can be changed in under 2 minutes with easy removable rear panel for quick changes at yearlyUV lamp replacement time. Go with CaluTech & get what you pay for.
| | | |
| --- | --- | --- |
| Suggested Retail Price | Average Sales Price | Your Online Price Today |
| $1,689.00 | $1,495.00 | $1,350 |
GET YOURS TODAY & SAVE
Free UPS ground shipping - insured! ($15.00 Value)
CLICK TO ORDER HVAC UV LIGHTS NOW
Six Lamp HVAC UV air purifiers - For commercial HVAC and large homes. A popular unit for single family homes 4000 SQ FT or more, as well as office buildings and strip malls! (use this UV air system for smaller homes). Kills viruses, mold, bacteria, and other airborne pathogens including bio-hazards like H1N1 and terrorism agents such as Anthrax / Small Pox. Irradiates the furnace - air conditioning coils and makes them like new again, increasing air flow and efficiency. These 6 lamp UV lights are shipping worldwide right now.
COMMERCIAL HVAC AIR DUCT UV AIR PURIFIERS
LIFETIME WARRANTY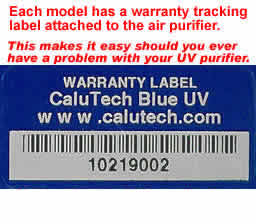 Large air purifiers custom built are available for larger applications, large warehouses, factories, mobile medical units, medical facilities, etc. Please contact us if you require a custom UV air purifier.
---
---
The CaluTech Spectrum™ UV lights air purifier has 6 double tube germicidal lamps for maximum efficiency. The CaluTech Spectrum UV air purifier has allowed us to take a leading position in commercial UV air purifier sales.
---
Ultraviolet - UV Air Purifier:

End of life circuitry - Delivers safe operation by preventing potential lamp melting or cracking.

Thermal heat disipation- Prevents lamp cycling or premature failure. Soldered copper leads ensure years of trouble free operation.

Specialized Lamp starting-Extends lamp life 20%.

Operates above 42kHz - Safe for areas using IR controls.

Inner Power Supply Specs:

Meets ANSI/IEC Regulations.
Meets FCC Class A Specifications for EMI/RFI.
Meets OSHA NRTL Standards US/Canada
Electronics meet ISO 9002 Quality System Standards.
Manufacturing meets ISO 13485 Medical Device Standards.
Voltage: 120/60Hz.
UV lamp wattage: 36 watts (216W total)

---
READ WHAT OTHERS THINK OF CALUTECH'S UV AIR PURIFIERS...