Custom Air Purifier Products and Custom Germicidal UV Light Purification Products By CaluTech UV Air Purifiers
Now installing UV lights for mobile medical & ambulances
The below image is an air purifier / air sterilizer manufactured by CaluTech by the request of an aquarium in the State of Maine. The problem was an infection spreading from one seal to another, where the seals were developing Pox. The aquarium discovered the Pox were being spread through airborne pathogens and needed a super high output ultraviolet light air sterilization & filtration system that could hang from the ceiling to irradiate the air in the room. The UV light and electrostatic filtration effectively cleaned the air to help save the seals, which were dying.
---
In the summer of 2009 we manufactured a UV floor sweeper by request. This UV light system is like a broom but easily rolls over the floor and emits high output UV lights for clean room sanitation.
---
The new model 246 UVGI Air Purifier / Sterilizer - April 2005

The new model 244 UVGI Air Purifier / Sterilizer - March 2005

The new Model 244 UV air purifier was custom manufactured for hess.com for a solution needed at their West Africa facility. The company currently has 91 UV air purifiers manufactured by CaluTech. The new system is now available via phone order only.

MODEL 244

We were asked by a Florida company to manufacture a proto-type UV surface sterilizer. The company was happy with the results and we plan to modify some of the design specifications of the new UV device. We will be working with some large companies in the near future in the development of more effective UV surface sterilizers, and yes, we are making them out of steel for long lasting durability & performance.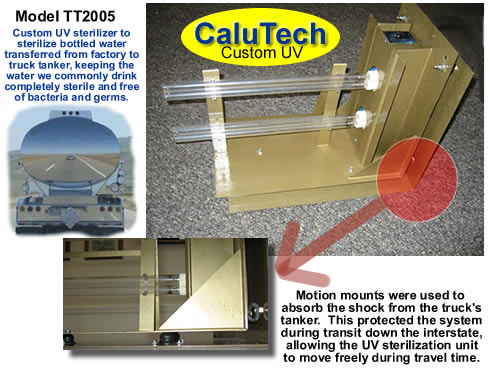 Semi-Truck Tanker UV Sterilizer for UV Water Sterilization -- Drinking and Bottled Water
We have received many requests from new and existing customers for water purifiers that use UV light, and we are actively manufacturing custom products for dozens of companies around the globe. We're even retro-fitting EMS Ambulance and mobile medical vehicles with UV sterilization as of 2010.
Have a suggestion? Tell us what you need, or think we should have. That's why we add new products. Most items we manufacture were requested by a consumer or a company.
If you need it many others probably do too, so let us know!