3-Stage Air Filters
UV ROOM AIR PURIFIER
Sorry, this item is no longer available.

5 Stages: 3 Air Filters...1 UV...1 PCO. Small enough to move easily but big enough for 1,200 square feet!
Features a 3-Stage air filter system with a pre-filter to trap particles and dust efficiently and a 2nd stage filter with its charcoal coating which also helps reduce odors and absorb smoke as well as chemicals found in the air such as Formaldehyde, Toluene, Ozone, Solvent vapors and even Benzene. The third stage is HEPA which traps allergens including mold, fungal spores, tobacco smoke, insect dust and dust mites, plus pollen and more. HEPA filter features particulate collection down to 0.3 microns. In addition, the HEPA filter also features a charcoal coating for maximum removal of any toxic vapors and fumes that get past the pre-filter (you can't find that anywhere else in a HEPA filter).


UV-C light comes next. After air circulates through the 3-Stage filtration system it is exposed to UV-C germicidal light for sterilization. In addition, the UV lamp exposure also incorporates photocatalytic oxidation technology, commonly referred to as PCO Technology for oxidation (air scrubbing) without harmful lung irritating ozone. This helps reduce any remaining volatile organic compounds (referred to in the industry as VOCs) and also assists the UV light with any living airborne bacterial destruction.
People can easily set the air filtration system to their preferences with the easy to use controls on the front control panel, and on the remote control. The indicator lights even provide information about the UV lamp status and the air filter status (they go from green to yellow to red. Red means change me.)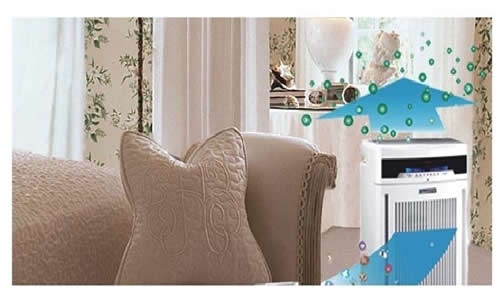 A new advanced air detection system is also present. This air purifier will actually turn itself on even if you're not home should the indoor air quality levels fall below acceptable standards until the air is clean again, keeping your home fresh and healthy.

Additional Features and Specifications:
Offers 1,200 Square Feet of Coverage for whole house air purification.
ABS plastic casing meets the CE requirement for household appliances.
Fine tune reverse motor for high air flow and extended duty cycles.
Uses high flow blower for consistent air flow.
Air enters the front via dual inlets.
Air exits the upper casing in dual directions for coverage.
High end charcoal covered fiber filter on both sides.
HEPA filtration meets medical grade high efficiency for particulate air filters using HEPA.
253.7nm Germicidal sterilizing UV-C Lamp rated at 9000 hours. Replacements only $14.95.
Photocatalytic Oxidation technology incorporated into units. Activated TiO2 coating on alloy honeycomb.
Remote Controlled for easy operation with the touch of a button.
Display features a clock, blower speed setting, UV-C lamp and filter monitors that turn red when changing is needed.
Noxious Gas Detector on the face detects low indoor air quality and automatic start/stop function to clean the air.
Air filters are very efficient with 99.97% filtration of all particulates down to 0.3 microns.
Quiet air purifier with 79Db (human voice level) at max speed and 45 Db (whisper quiet) at lowest speed.
Control Panel and Remote feature On/Off, 9 speeds and programmable start, stop time and delivery speed.
Dimensions: 15" Wide x 22" Tall and only x 9" Deep.
Lightweight for a large house air purifier at only 20 pounds.
Fast air exchanges with the 265 CFM blower.
Power is AC 120v/60 Hz (and 220v/50Hz), just plug it in.
Maximum electrical consumption is only 90 watts (highest speed)
NRTL Certified CE for EMC & Electrical Safety. Energy Star.

Some of the more advanced technology such as ozone generators create harmful byproducts that are hazardous to your health. Photocatalyst air oxidation combined with UV-C light germicidal air purifier is an invisible air purification system that continuously maintains a pure and clean environment, and it's quiet air purification. Simply turn on the home air purification system and the process begins.