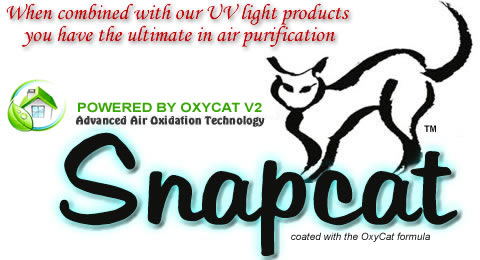 Air Purifier with Germicidal Protection
Featuring Snapcat™ Nano Technology - Photocatalytic Oxidation
U.S. PATENT PENDING
Featuring Version II OxyCat Formula, just released.


Heterogeneous photocatalytic oxidation eliminates concentrations of organic contaminants from gaseous effluents by converting them to safe substances such as water vapor or carbon dioxide. Our oxy air purifiers with germicidal protection and Snapcat™ photocatalytic oxidation remove musty odors, pet dander, viruses, mold, bacteria, and other airborne pathogens. Eliminates VOCs (Volatile Organic Compounds). Helps clean and sanitize air ducts and kill mold while eliminating odors throughout the entire home.
Snapcat™ is based on the most advanced OxyCat nanotechnology photocatalysis. In the presence of our UV light source and natural moisture in the air, oxygen is formed on the Snapcat™ plate's surface. The magic is in the coating, a baked on micro thin film of OxyCat Formula. This intelligently breaks down unwanted odors, pungent smells, allergens, air pollutants and harmful toxins through an oxidation process. Snapcat™ protects you from absorbtion of pollutants that may otherwise accumulate in an enclosed area. Snapcat is ideal for any workplace, gyms, schools, hotels, hospitals, nursing homes, day cares and residential homes. Snapcat™ not only attacks and decomposes the cause of odors, but also continuously offers an air purifying effect year round, creating a healthy environment. Another plus, greenhouses, where Snapcat™ destroys organic pollutants and plants thrive on the carbon dioxide those pollutants are converted to.
SnapCat is a catalyst, similar to the process performed by a catalytic converter on a vehicle, where bad gases are converted to neutral levels.
Traditional air purifiers work by forcing air through the machine, where their effectiveness is largely dependent on the size of the room and the amount of the air that can be treated at one time. Some of the older technology such as ozone generators create harmful byproducts that are hazardous to our health. Snapcat photocatalyst air oxidation can be combined with our UV-C light germicidal air purifier or standard fluorescent lights, creating an invisible air purification system that continuously maintains a pure and clean environment, and it's a silent air purifier. Simply turn on the UV system or your fluorescent lights and let the purification process begin.

If you already own a CaluTech UV air purifier you can easily add the Snapcat™ snap-on strips to your existing UV lamps, or add Snapcat™ at your next lamp change. It's also available for ALL other UV air purifier models not made by us, and for all fluorescent light bulbs! Contact us for details.
Snapcat™ is a product which allows a simple, yet effective way to utilize photocatalytic oxidation nanotechnology in your home. It was released in 2006. It has since been upgraded in October 2010 with the more advanced OxyCat formula, the highest technology photocatalytic oxidation process available. The photocatalytic strips are different than some UV air purifier models by others, which use a simple piece of titanium metal in an attempt to produce a catalyst oxidation process. Titanium Dioxide, or Titania (chemical name ti02) is a product not produced by nature and not made from titanium metal. It is extracted mainly from rutile Australian beach sand and when it is used in the Snapcat™ process it becomes a powerful oxidizer which is activated by UV light and standard visible light. The Snapcat™ strips are manufactured and coated with a very pure titanium dioxide mixture which is baked on the Snapcat™ strip. This coating, known as OxyCat Version II, lasts for 5 years, or more. Adding Snapcat™ technology to your current UV air purification gives you a superior method for air purification. UV-C germicidal light produced by the CaluTech product line eliminates viruses, mold, bacteria and other living airborne pathogens by modifying the living organism's DNA, preventing them from reproducing, and causing the organisms to die. Adding Snapcat™ strips to your UV air purifiers or fluorescent light bulbs causes a reaction between the UV or visible light and the strips. This reaction is called Heterogeneous Photocatalysis, or quite simply 'Photocatalytic Oxidation' / PCO Nanotechnology.

These oxidizers destroy organic organisms in places where the UV-C light cannot reach. In addition, because titanium dioxide is a semiconductor it absorbs UV light and breaks down volatile organic compounds (VOCs) such as odors and gases like formaldehyde from carpet, carbon monoxide or nitrous oxide. These gases are converted by the photocatalytic process into carbon dioxide, rendering them completely harmless. All you have left is pure clean air! Breathe clean again, breathe crisp clean air.


| | |
| --- | --- |
| Germicidal protection combined with Snapcat™ equals superior air purification. A cost effective, low priced solution to indoor air problems. Now for just $79.95 you can add Snapcat to your CaluTech ultraviolet air purifier. (or $59.95 with a UV system purchase, add it at checkout). Nothing's better! Get yours today. Snapcat™ can be added to your new or existing CaluTech UV air purifier in seconds! Fits all CaluTech air purifiers. | |
Unlike spray deodorizers, Snapcat actually eliminates odor and harmful compounds. Working in conjunction with our UV air purifiers you have a cost effective air sterilization system.

Titania is found in processed food, toothpaste, even cosmetics. We eat it and wear it, who would have though it cleaned the air we breathe? It's a powerful photocatalyst. When it's in the UV light it doesn't burn up like living organisms because it's a semi-conductor type photocatalyst. Scientists are developing 'self-cleaning clothes' with Titania. Even self-cleaning tiles for floors & walls are being made overseas. It's an extremely powerful oxidizer, lethal to odors and mold but harmless to us.
If you don't have a CaluTech UV air purifier email us with the make & model of yours and we'll quote you free - get Snapcat for your air purifier...OR add it to your existing fluroescent lighting.
ORDER AIR PURIFIER WITH GERMICIDAL PROTECTION & PHOTOCATALYITC OXIDATION