Smoke Eater
SMOKE EATING AIR PURIFIER FOR CIGARETTE & CIGAR SMOKE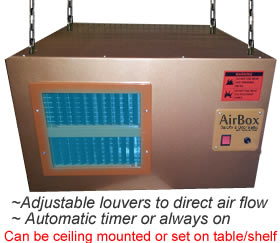 Smoke eater air purifier for universal use:
1: Air purifier can be ceiling hung
2: Air purifier can sit on a table or large shelf
Features:
Smoke eater & odor absorbing media
Effectively removes smoke from air
UV light germicidal air sterilization
Photocatalytic Oxidation
Optional 3" HEPA filter (instead of smoke filter)
Auto shuf-off timer or always on
Three speed selections, Low, Medium, High
As quiet as a 20" box fan
Powerful blower moves nearly 1200cfm on high
Remote control for timer, fan speed & on/off
20 air changes per hour
Large system is lightweight, only 65 pounds.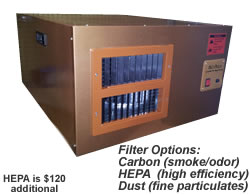 Built for high demand or occassional use, this air purifier is a workhorse. With powerful UV lights for air disinfection & air sterilization combined with your choice of carbon filtration for smoke & odor elimination (standard), HEPA filtration for high efficiency filtration (+$120) or dust buster filtration for heavy dust, including sawdust or very fine dust. (choose option at checkout)
Manufactured out of steel for strength & long life durability, the AirBox air purifier is a one of a kind powerhouse with the most competitive price in the industry. (our competitors are really upset)
Operate it from a distance with the remote control, which allows you to set the timer, turn the smoke eater on or off, and change the speed of the fan. Similar air purification systems like this are sold everyday for $2,000.00 or more! Now you can have the all-in-one AirBox for the introductory low price of only $845.00 and experience the same performance as the higher priced smoke eaters, plus it ships FREE anywhere in the continental United States!
Suggested use: (all air filters meet Class 2 for flame retardance)
With the standard smoke eater & odor eater option:
Bars & nightclubs, large kitchens, cigar rooms, home use (if space permits)
Activated carbon granules for smoke & odor. MERV 7 efficiency rating!
With the dust buster option
Woodworking shops, home shops, garages, warehouses, or where dust is a problem
Dust filtration and a triple interceptor bag after the filter for additional containment!
(like having 3 vacuum bags after the air filter, they hold a lot!)
With the HEPA air filter option: (+ $120.00)
Hosptials, clinics, clean rooms, laboratories, home use (space permitting)
Features a 3 inch thick HEPA filter, 99.97% efficent, traps particles down to 0.3 microns.
Specifications:
Operates on 110 to 125 volts at 2.8 amps. (standard plug-in)
Smoke eater is 2 1/2 feet long, 2 feet wide and 1 foot 2 inches tall.

Delivery: Allow 2 to 4 weeks for delivery (ships oversize).
Order The Smoke Eater
The best smoke eater for the price is the AirBox Smoke Eater