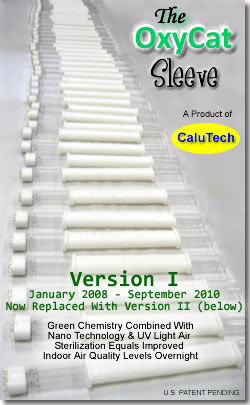 In combination with UV light, this green chemistry approach to air purification greatly improves the quality of indoor air. Shortwave UV light, the germicidal wavelength of light, attacks living organisms that contain DNA, such as living viruses, mold and bacteria. By combining nanotechnology with advanced integration methods we have developed the most advanced air oxidation process that exists today in a UV air sterlization and purification system that you can install yourself in as little as 10 minutes.
CaluTech's 'Blue UV Lights' series of HVAC air purifiers are among the most popular in the world today for the do it yourself home owner. Now you can breathe with confidence while in your home or business knowing the air is free from a large variety of airborne pathogens and organic contaminants. With the addition of OxyCat these Ultraviolet light air purification systems have a greatly increased, massive amount of power against allergens, mold, bacteria and a wide variety of airborne virus. pdf booklet on OxyCat Formula
While our UV lights do their job against these living organisms, the OxyCat goes to work at the same time. The formula of OxyCat causes oxidation of organic contaminants using micro sized magnetic particles coated with a non-toxic catalyst formula, becoming agitated and active by a magnetic field when the UV lights ignite. This process releases what's known as hydroxyls, powerful air oxidizers that are basically 'air scrubbers' when they come in contact with these organic contaminants. The design and formulation of the OxyCat creates a maximum reaction with the UV light. This process is the most powerful green chemistry air purification method available, there's nothing else like it.

Oxy air purifiers are not just for allergies. OCUV light can destroy viruses, mold, organic contaminants and bacteria. OxyCat UV germicidal air purifiers for HVAC ventilation systems do more than any other 2 lamp UV system can.

If you have a newer home you need UV air purification. New homes are built air tight with little fresh air circulation. A danger sign you should not ignore.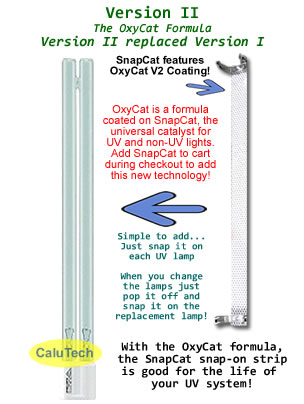 So what are these so-called organic contaminants anyway? They're commonly referred to as VOCs, or "volatile organic compounds" which are chemicals that will, at room temperature, easily evaporate into the air (and that's when we inhale them into our lungs). Don't think you have these chemicals in your own home? How wrong you are. Most of us have no idea how much damage we can do to our body just by going in our homes.
Volatile organic compounds can be found in many products.
Did you know that deodorant you wear creates VOCs? So do paints, so if you've got paint on the walls you may have an air problem you never knew existed.
Do you use air fresheners? Guess what? That nice clean scent is actually contaminating the air with indoor air pollution, thanks to the volatile organic compounds they produce. Even worse, disinfectants, cleaners, dry-cleaned clothes and more all take part in the reduction of clean air indoors. The list goes on and on.
OxyCat is currently available for any UV system, and can be added at checkout for all 'Blue UV Lights' series air systems. OxyCat is also available for standard fluorescent lights too (non UV lights). If you don't intend to add our Blue UV series product (Blue UV, Mini-Blue and Blueray) you can still get SnapCat (the device that is coated with the OxyCat formula) at a later time. It can be added anytime. The catalyst air oxidation system will always be available. OxyCat is non-toxic. Organic air purification solutions by CaluTech.

A/C COILS BEFORE CALUTECH AIR DUCT UV LIGHTS & AFTER