Replacement UV bulb for the Ultra Sterile Blu Ray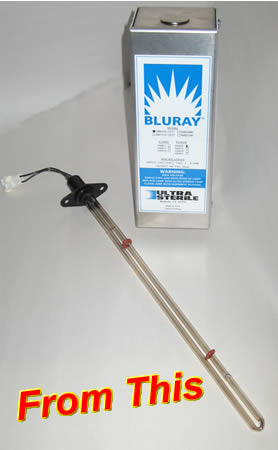 ---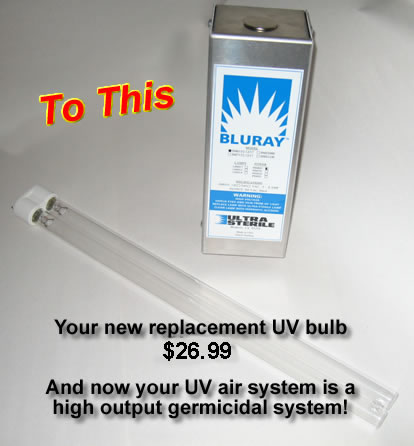 Why change it from that pencil thick bulb to a high output UVC germicidal bulb?
The company that made this product is no longer in operation and there's only one place we know of where you can get the replacement UV bulb for your Blu-Ray UV air purifier. You have two options:
1. Pay for a factory replacement bulb from iaqdirect.com (about $120)
2. Send your Blu-Ray to CaluTech for modification to the high output UV bulb for $89.95 (includes new UV bulb, ships free)
Send your unit to:
Calutech Inc
BluRay Upgrade
15646 S 70th CT
Orland Park, IL 60462

Include your name, address, phone and EMAIL in the box, on a piece of paper is fine. Also include a check payable to Calutech Inc for $89.95 or include your Visa, Mastercard, or Discover number. Once it's ready we will email you a tracking number and receipt. Ususally ships within 24 hours after it is received.
If you send it to us here's what you get:
Entire unit is gutted - new 120v power supply (220/240 available for $18 extra)

Germicidal light air purifier adjusts to voltage automatically

Advanced EOL circuity safely removes power from UV lamps.

You'll have powerful UV germicidal (pure UVC) - Extremely strong!

Power supply US/Canada Certified, Sound Rated A, Class P, No PCB's.

You'll no longer be stuck paying $120 for a light bulb, just $26.99

We include a 5 year warranty with your modified unit.
GET YOURS MODIFIED TODAY FOR ONLY $89.95, NO HIDDEN COSTS, JUST $89.95 TOTAL (INCLUDES SHIPPING BLU-RAY BACK TO YOU).
Free ground shipping - insured! BIG SAVINGS!
How long does it take? It's sent back within 48 hours.
NOTE: WE CAN'T MODIFY THE BLACK PLASTIC ULTRA STERILE UV AIR CLEANSERS SO IF YOURS DOESN'T LOOK LIKE THE PICTURE ABOVE DON'T SEND IT IN, WE'LL JUST RETURN IT.
Will I need to change anything to re-install?
Yes, our bulb is thick, your current lamp hole will need to be changed to 2 inches (probably 1 inch now). Also, if your lamp was installed inside the actual coil itself you'll need to move the unit, either next to the coil or above it. The new bulb will not be on a 'wire' - it will snap directly on the silver power supply unit.